Wanting to install new flooring in your kitchen? If so, then one of the first decisions you'll need to make is which specific type of flooring you'll select for this high-traffic space. As you begin exploring your options, there are a number of considerations worth keeping in mind.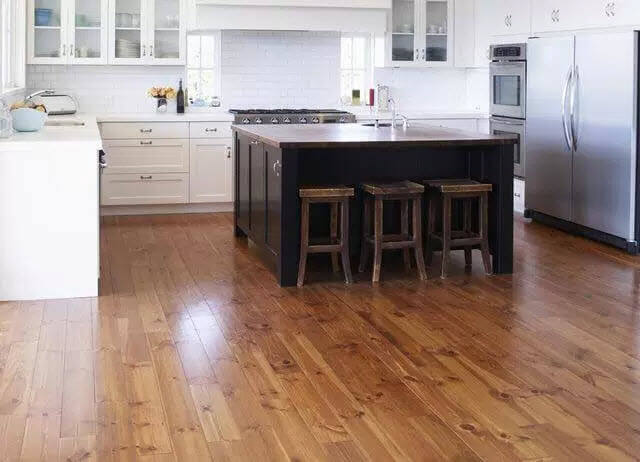 Wooden flooring for the kitchen
For starters, think about the type of activities that go on in your kitchen. Above all other spaces in your home, your kitchen is probably the most susceptible to spills, both liquid and solid. With that in mind, you'll want to select a flooring option that can handle spills without becoming easily stained—and that won't become a huge slipping hazard in the process. With those inevitable spills in mind, you'll also want to consider the cleaning and maintenance involved with your flooring of choice. Ideally, you should select a flooring material that's easy to keep clean.
Vinyl Flooring for Kitchens
When it comes to floor coverings for kitchen spaces, vinyl can be a great option to consider. Specifically, many homeowners enjoy luxury vinyl flooring for their kitchens because the material can be made to look like other more expensive and less durable materials at a fraction of the price thanks to modern manufacturing processes. For example, it is common to see vinyl flooring that resembles wooden flooring in a kitchen because vinyl can be digitally printed and is much more water resistant, durable, and easier to clean than real timber. In fact, this is probably one of the most versatile flooring options available today.
Timber Floating Flooring for Kitchens
For those who prefer the real thing, on the other hand, a timber floating floor can be a great option for kitchen spaces as well. Specifically, timber floating floors are absolutely beautiful and come in a wide variety of finishes and colours to suit any space. Furthermore, they're supplied and made from environmentally friendly timber resources, so homeowners can feel good about their purchase.
Floating timber flooring comes in a variety of material options, ranging from solid timber to engineered wood. These are made to be durable enough to stand up to kitchen spills and high foot traffic while still being easy to clean and maintain. Homeowners also tend to enjoy the fact that timber flooring can be sanded down and refinished down the road to give it a brand new look, if desired.
Other Flooring Deals Available
In addition to timber floating flooring and vinyl flooring, we have a wide range of other cheap flooring to check out. Whether you're interested in cheap carpet or laminate flooring for other areas of your home or even environmentally friendly and sustainable bamboo hardwood flooring, we have you covered with the highest quality materials and best prices in the Melbourne area. In addition, with your purchase at Complete Carpet Co., you'll always enjoy our unrivalled customer service, competitive pricing, and quality installation.
No matter what option you end up choosing for your kitchen flooring, we have the selection of top brands you're looking for. Shop our selection today to find the best deal on your next kitchen flooring material!