Most consumers, when they are picking out a new rug or carpet, focus on the front of the product: colour, pattern, texture and finish. Yet, often the real secret of a floor covering's longevity lies in the parts of the rug or carpet that you don't see: the backing.
Back To Basics
As ever, the starting point when considering backing is the planned use for the floor covering; will it be in a high-traffic area, or will it have to withstand challenges like pet odours or resist moisture? Most tufted carpets feature a double backing. The first layer is created as part of the production process and is bound to the yarn while it is constructed. The secondary backing is added after the carpet has been finished.
Woven carpets are, as you'd expect, woven on a loom with the yarn and backing woven simultaneously. This process means there is no need for a secondary backing, other than a thin layer of latex to create a more easily-handled end product. This method produces an extremely durable end product. Just because woven carpet doesn't require backing, that doesn't mean backing has no purpose other than disguising cheap carpet. For example, a backing fabric offers the opportunity to add useful features such as an anti-microbial layer, stain resistance, or anti-static and non-slip properties.
Backing can also be a useful indicator of carpet density and quality. Press down on any carpet to see if you can feel the backing. The harder you need to press before you see the backing, the denser the pile and higher the quality. Keeping the carpet with the tufts uppermost, bend a sample into a U-shape to see how much backing remains visible. High quality carpet should show very little backing in this test.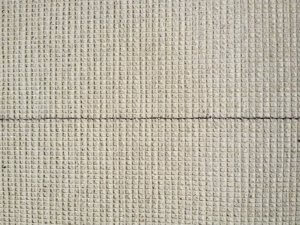 Think About Fibre
Wool is still the most sought-after material for high quality carpets and rugs. It's durable, strong, dyes well and bears repeated cleaning. Synthetic materials tend to be cheaper and, if you're not sure whether a carpet is synthetic or wool, you can generally tell by looking at the back; synthetic products tend to feel harder and more like plastic.
Synthetic fibres are smooth, leaving less room for dirt and grime to hide. This might sound appealing, but in practice, it means that dirt sticks to the outside and shows up a lot faster. Synthetic carpets can be steam cleaned and can withstand harsh detergents better than wool, but they still require regular cleaning and care.
The final major issue with synthetic rugs is the material used for backing. Often, synthetic rugs are interlaced or backed with jute, which adds strength and structure to the smooth fibres. Unfortunately, jute is also a great retainer of odours. Synthetic rugs with jute are not recommended for households with pets or small children, or for use in high-traffic areas.
Call into either our Blackburn or Bayswater carpet stores in Melbourne today for help and advice in choosing the best carpet for you.