If you like the look of hardwood flooring but are worried it might not fit your home or room renovation budget, you may want to consider laminate flooring. This durable, versatile flooring will provide you with the aesthetic look of a hardwood floor, but at a fraction of the cost.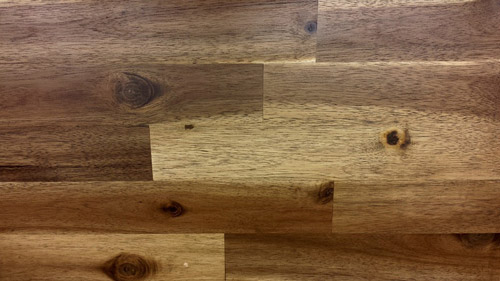 Laminate Flooring Rundown
While laminate flooring looks like wooden flooring on the surface, it isn't made out of wood at all. Instead, the surface of the flooring is actually a photograph of wood. The photograph gives off the appearance of wood or tile without actually using these elements.
The photograph is covered with a see-through transparent layer. This layer serves as a protective barrier and prevents the laminate floor coverings from getting scratched or damaged.
Underneath the photo of the wood is a wood-chip composite. This wood-chip composite provides the support the floor needs to withstand the wear and tear it is put under on a day-by-day basis.
What are the Benefits of Installing Laminate Flooring?
One of the reasons why laminate is such a popular flooring option is because of it's many benefits, such as:
Affordability
Durability – flooring is scratch resistant and can withstand exposure to water
Low maintenance – as opposed to carpet, there is very little maintenance involved with laminate flooring
Easy to clean – flooring can be swept with a broom or quickly vacuumed
Mimics the appearance of wood or tile flooring at a fraction of the cost
Versatile – flooring can be installed in almost any room of the house
Easy to install
Laminate Options
In the past, laminate flooring was only available in a limited number of options. Today, customers have a vast number of options available to them when shopping for laminate flooring.
When shopping for laminate flooring, you will have a number of choices to make when it comes to the texture and thickness.
Some of the thickness options you will have to choose from include:
The thicker the laminate, the more durable it becomes, as it has a number of padded layers to support the flooring. This support prevents the floor from bending or bowing.
In addition to thickness, you will also be able to choose from a variety of different textures. Texture choices include the following:
Embossed
Embossed in Register (EIR) – creates the appearance of natural hardwood flooring
High Gloss – scratch and dent resistant
Handscraped – creates the appearance of a wooden floor the has been handscraped
Laminate flooring is a versatile, durable floor that allows you to add the look of a hardwood floor to any room without having to go through the complex and costly installation process involved with hardwood flooring.
When you are ready to shop for laminate flooring or any other type of cheap flooring, visit Complete Carpet Co. We provide Melbourne customers and homeowners with discounted prices on a number of floor coverings, including laminate flooring.
Visit one of our two showrooms today to see how we can help you with your flooring needs.